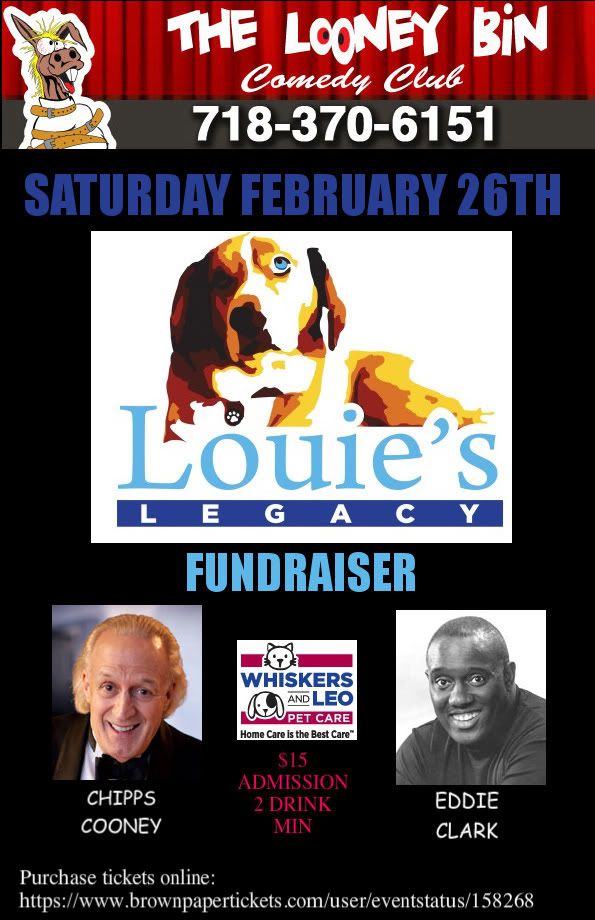 Saturday, February 26 · 9:00pm - 11:00pm
Location
The Looney Bin Comedy Club
141 East Service Road
Staten Island, NY
Created By
The Looney Bin Comedy Club on Staten Island
More Info
The Looney Bin Comedy Club invites you to attend a special fundraiser for Louie's Legacy Animal Rescue in Memory of Tommy Monahan.
Louie's Legacy Animal Rescue
Each year, hundreds of thousands of animals die needlessly in our nation's shelters. Louie's Legacy Animal Rescue during 2010, assisted in saving over 700 such animals across 13 states. We are upping our efforts in Staten Island, once again where it all started when Louie, our namesake was first adopted.
Our volunteers and fosters are making an extra effort to save cats and dogs from our own shelter, here in Staten Island and the rest of the city, to spare them from death row. We recently pulled four cats before they were going to be put down, just because they were too scared to eat at the shelter. We have three dogs in our adoptions who need special help getting ready for their forever homes, who were also pulled before they were put on the list to be put down.
This year the Tommy Monahan Foundation has picked Louie's Legacy to be the recipients of donations collected in memory of Tommy. Tommy lost his life three years ago while trying to save his dog while his house was on fire. A true animal lover, his memory lives on in the animals he is still helping today through our rescue and others. Donations of money, pet supplies and food, are being accepted until August. For more info:
mel@louieslegacy.org
Louie's Legacy's Website:
http://louieslegacy.org/home/
It will be a great DOUBLE HEADLINER SHOW:
Headlining the show will be the very funny:
Eddie Clark (CMT,ESPN, Law & Order)
And Your next Headliner From NBC's America's Got Talent:
Chipps Cooney
Special Guest Staten Island Funny Lady:
Nanci Richards
Hosted By Staten Islands Own:
Matt Scarpelli
To buy tickets online before they sell out. Use this link:
https://www.brownpapertickets.com/event/158268
For reservations call: 718.370.6151
or
Email: looneybincomedyclub@gmail.com