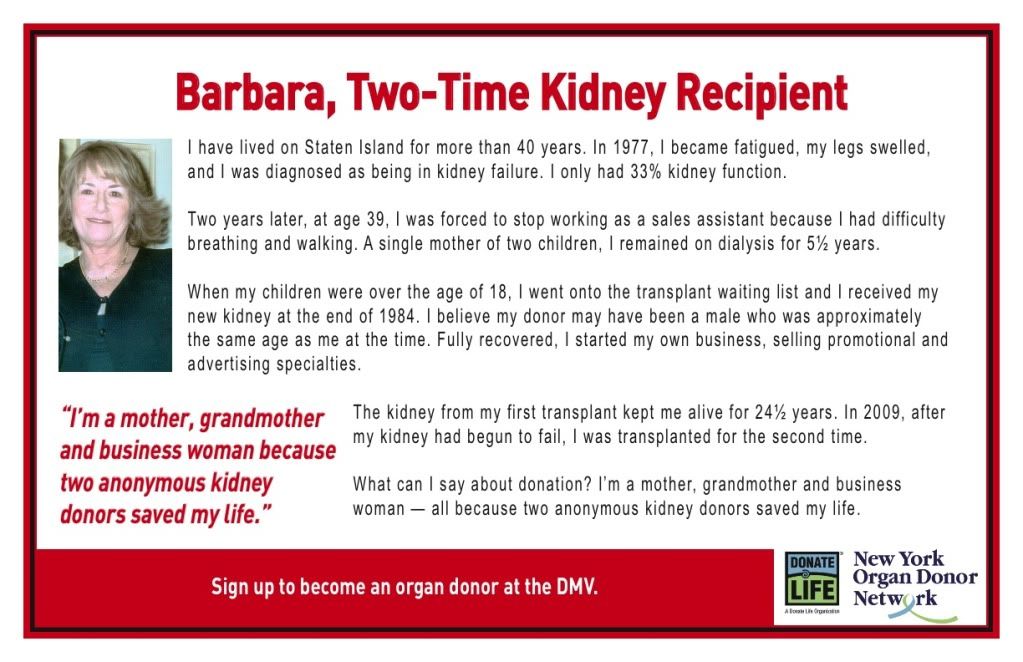 Barbara Bassi
Heartland Village
Two Kidney Transplants : 1984 and 2009
BARBARA BASSI, KIDNEY TRANSPLANT RECIPIENT,
CELEBRATES HER 23RD "RE-BIRTHDAY" ON DECEMBER 18, 2007
What was the illness that led to the transplant and for how long?
In 1977, Barbara became ill. She was fatigued, her legs swelled, and she was diagnosed as being in kidney failure. She only had 33% kidney function.
In 1979, when she was 39, Barbara was forced to stop working as a sales assistant because she had difficulty breathing and walking. She was given the option of kidney dialysis or a transplant: because both were relatively unknown, she chose dialysis. As a single mother of two children, she felt it was less of a risk than transplant.
She remained on dialysis for 5½ years.
Barbara waited until both of her children were over the age of 18 before going onto the kidney transplant list. She was on the list for three months, before receiving her transplant. After two months, she had been called but another patient got the kidney because he was a better match. She says she wished him well.
December 18, 1984. It was the first night of Chanukah. Barbara received a call at 3 a.m. and her son, Robert, drove her to the hospital. But first, in cold and foggy weather, he had to find a gas station: Barbara had not filled the car with sufficient gas.
Barbara remained in the hospital for seven weeks. The kidney did not work for the first 3½ months, and Barbara was placed back onto dialysis, even though medical tests could not find anything abnormal.
Barbara felt she needed to become independent of dialysis—she finally refused to be dialyzed, and she and her medical team were astounded to discover that her new kidney took over and began to work perfectly.
The Mount Sinai Medical Center in Manhattan, where Barbara had been on dialysis since 1979.
Barbara is currently 68. At the time of the transplant, Barbara, still a single parent, was 44. Her son, Robert, was 20; her daughter,Jodi, was 18.
Barbara has lived on Staten Island since 1970.
Following her transplant, Barbara was able to work again. She started her own business, selling promotional and advertising specialties.
What is known about the deceased donor?
Barbara never learned anything about her donor. She believes he may have been a male who was approximately the same age as she was at the time.
Barbara's son, Robert (43), lives in New Jersey, is married and has two children – two boys ages 13 and 11, and a daughter age 6½.
Barbara's daughter, Jodi (41), lives in Manhattan, is married, and has two children – two boys ages 10 and 6½.
Over the years, Barbara has assisted the New York Organ Donor Network's public education efforts by speaking as a transplant recipient at several hospitals about the need for more organ donors. The New York Organ Donor Network will mark its 30
th
anniversary in 2008.
She has also been a member of Transplant Recipients International Organization (TRIO) of Manhattan since 1993.
My transplant lasted 24 1/2 years but three years prior to that my kidney started slowly losing function. It took about three years and I was then told I would need another kidney. Therefore, that meant I would have to go back on the waiting list for another organ and possibly go on dialysis. As my function decreased it was now time to go back on the list. I did much research and decided to multiple list at 3 transplant centers.
I believe that I got lucky because I was on the waiting list for 11 months when I received a call from one of the centers that they had a kidney for me. I was so excited and at the same time very scared. I asked many questions about the donor and accepted the kidney. I was transplanted on July 22, 2009. I am doing
extremely well and back to work.
While waiting I was getting very fatigued, lost a lot of weight, and could not function as a normal human being. Afternoon naps were a must. Now again, I was reborn. Because of my age it took about 8 months
to finally bounce back to the way I was.
So everyone be An Organ Donor. Organ Donation Saves Lives.....It saved mine Two Times